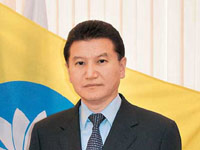 FIDE President, former President of Republic of Kalmykia Kirsan Ilyumzhinov with congratulations.
Dear friends!
As this special time of year arrives, I would like to take this opportunity to extend my sincerest wishes for a holiday season filled with happiness for you and those you love and to thank you for your continued hard work, support and dedication to the great sport of chess which is deeply appreciated.
Wishing you a Merry Christmas and a Happy New Year!
FIDE President Kirsan Ilyumzhinov