Posts Tagged 'Bair Uladaev'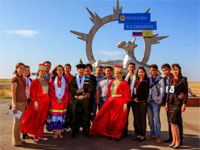 [ Ru ] People's automobile race "Heart of Russia" (Buryatia-Crimea-Moscow) has successfully arrived in Republic of Kalmykia. Meeting on Tourism Development was held today, June 16, in the office of the Government of the Republic of Kalmykia.
According to the plan the meeting was a presentation of the People's tourist map of Buryatia.
Yesterday, June 15, important guests from Buryatia, saw the attractions of Kalmykia, including, visited the largest Buddhist temple in Europe 'Golden Abode of Buddha', became a place of pilgrimage for tourists from around the world. Read the rest of this entry »
Tags:
attractions
,
attractions of Kalmykia
,
automobile race
,
Bair Uladaev
,
Buryatia
,
Buryatia-Crimea-Moscow
,
Crimea
,
Elista
,
Heart of Russia
,
Kalmyk Fund of Tourism Development
,
Kalmykia
,
Moscow
,
photos
,
Russia
,
Today
,
Yesterday