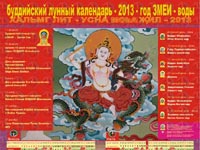 Astrological forecast for 2013 (De, Fr, Rus)
Sanan Matvenov, monk, astrologer Central Kalmyk temple "Golden Abode of Buddha Shakyamuni"
2013 will be year of the Snake. In keeping with tradition Naktsi five days from the start of the celebration Zul [this year December 8] Kalmyks escorted the old master, the Dragon. It is believed that at this time the Dragon conveys power to Snake.
Actually, not a bad year. Most importantly, I want to please all, and say that the end of the world will not. He canceled (laughs). Read the rest of this entry »