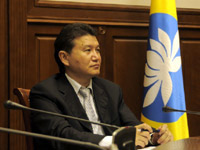 The President of the World Chess Federation and ex-president of Russia's Republic of Kalmykia, Kirsan Ilyumzhinov has bought a 52.5% stake in Bulgaria's largest fuel company Petrol Holding.
Swiss-based Credit Mediterranee owned by Kirsan Ilyumzhinov bought the 47.5% stake owned by Denis Ershov and the 5% stake owned by Alexander Melnik, Vedomosti Daily reports. Ilyumzhinov plans to buy 100% of Petrol and is currently engaged in negotiations with another shareholder Mitko Sabev, who holds a 47.5% stake.
The cost of the deal has Read the rest of this entry »
Sofia: Meeting with the President of Bulgaria Georgi Parvanov. President of Kalmykia, FIDE President Kirsan Ilyumzhinov met with the President of Bulgaria Georgi Parvanov today in Sofia.
Georgi Parvanov expressed his satisfaction that Bulgaria will organise the World Championship Match 2010 and he assured the FIDE President Kirsan Ilyumzhinov that the event will be held successfully and on the highest level.
At the same time, Georgi Parvanov informed the FIDE President Kirsan Ilyumzhinov Read the rest of this entry »