Posts Tagged 'Badma Kharlueva'
After watching the movie the new head of the republic Alexei Orlov, formally appealed to the Kirsan Ilyumzhinov with a proposal to head the government of Kalmykia, in which he refused.
Kirsan Ilyumzhinov said in his reply speech, during the years of the regional leaders he has fulfilled all the promises made and now he has "other business and other plans." Read the rest of this entry »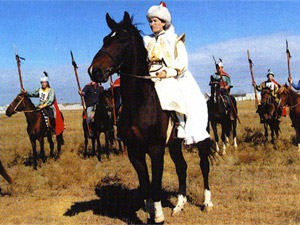 Premiere of the documentary film about Kirsan Ilyumzhinov [ Ru ]
Today, October 18, 2010 was held briefing on the upcoming premiere of "Kirsan Ilyumzhinov. Strokes to the portrait".
According to the moderator of the meeting the President of the Union of Journalists of Kalmykia, editor of the kalmyk national newspaper "Khalmg UNN" Sanal Shavaliev, author of the picture was not chosen by chance, it is the will of the hero tape. Read the rest of this entry »