Posts Tagged 'Bishop of Kalmykia'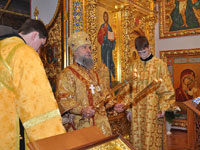 Today, January 20, the feast of the Forerunner Cathedral and St. John the Baptist, Bishop of Elista and Kalmykia Zinovy ​​did Divine Liturgy at the Kazan Cathedral in Elista. For ruling bishop concelebrated sacristan Cathedral Archpriest Anatoly Sklyarov and Priest Anthony Zimovets.
Lord Zinovy ​​pointed to the importance of participation of people who have taken the Sacrament of Baptism in the conscious religious life. Archbishop Zinovy noted Read the rest of this entry »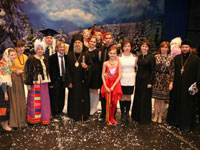 Today, January 6, in Elista held traditional charity children's holiday "Christmas Eve."
Holiday prepared by the students of Sunday school of the Kazan Cathedral of Elista.
On a holiday special guests was attended Bishop of Kalmykia Zinovy ​​and Head of the Republic of Kalmykia Alexey Orlov.
Members of the "Eve" were children Read the rest of this entry »