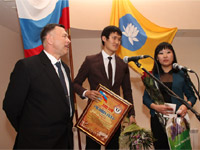 The partner of the competition "Person of Year" the "Megafon" company awarded the youth leader Vitaly Bokov, reported by the Department of Youth Development Fund Kalmykia.
In the capital of the Republic of Kalmykia, the blessed city of Elista, the ceremony of rewarding of winners of the Republican competition "Person of Year" took place.
Following the results of SMS vote and Internet vote winners in all regions of Kalmykia were defined. Each of winners Read the rest of this entry »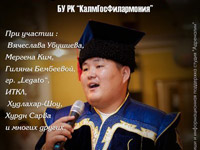 Lidzhi Goryaev's benefis in Elista, capital of Kalmykia.
March, 17.
18.00.
In the benefis involved:
Vyacheslav Ubushiev, Gilyana Bembeeva, Itkl, Khudlakhar-show, Khurdn Sarva, Mergen Kim, Legato group, and others kalmykian stars. Read the rest of this entry »