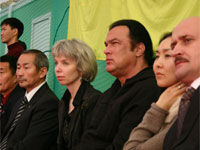 Steven Seagal has visited Kalmykia attractions [ De | Ru | Es | Fr ]
Professional movie fighter, star of Hollywood – Steven Seagal arrived in Kalmykia, reported KalmykiaNews. One of the major 90 well known movie stars, and its affiliation to Buddhism. And for him, the trip was a kind of pilgrimage. In addition to the numerous titles Seagal added another, an honorary citizen of Kalmykia.
Monks did not dressed for the weather, but according to Buddhist tradition, was asked to provide advance Steven Seagal is the warm welcome.
Responsible monks immediately gave the actor a special white scarf symbolizing the white, that is that is to say successful road, and have given to drink national kalmyk tea. Read the rest of this entry »
Tags:
aikido
,
attractions
,
Avenue of Ostap Bender
,
Buddhism
,
chess
,
Chess town
,
drink tea
,
E2-E4
,
Elista
,
Golden temple
,
guitar
,
Hollywood
,
Hollywood stars
,
jacket
,
Kalmyk monks
,
kalmyk tea
,
Kalmykia
,
kimono
,
Kirsan Ilyumzhinov
,
nirvana
,
Ostap Bender
,
photos
,
Spiritual News
,
Steven Seagal
,
tibetan lamas
,
trip
,
trip to Kalmykia
,
Visit to Kalmykia