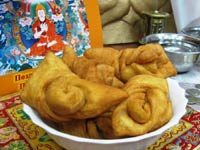 Kalmyk New Year!
Zul!
The official program of the Kalmyk New Year celebration in Elista, capital of Kalmykia
On the 1st of December at 9 a.m. a solemn prayer "Thousand offerings to Lama Zonkava" is served in the central buddhist temple "Golden Abode of Buddha Shakyamuni".
The first part of the prayer is to end at 11 a.m. The laymen are treated with Kalmykian tea, boortsog flat cakes and sweets by the monks of the central khurul.
At 12.00 Concert on the territory of central temple Read the rest of this entry »