Posts Tagged 'Sanan Syugirov'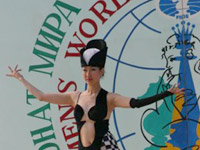 Today, February 11, in Moscow, in the exhibition hall "InfoSpace" opening ceremony of XII International Chess Festival "Aeroflot Open – 2013", dedicated to the 90th anniversary of Russia's leading airline, reports special writer from KalmykiaNews agency.
In the international chess festival is attended kalmyk chess players led by ex-champion Read the rest of this entry »
GM Sanan Syugirov and GM Andrey Zontakh give their comments on the tournament in Elista.
The tournament is over, let us strike sport, creative and theoretical balance.
First and foremost I would like to distinguish the tournament winners. Dmitry Jakovenko will be remembered for his amazing tenacity in the defence and delicate end-game technique.
Teimur Radjabov, a bedivere of King's Indian defence, – confident game with Black. Read the rest of this entry »