Posts Tagged 'Supreme Lama'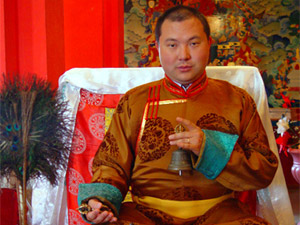 We invite you to meet with the honorary representative of His Holiness Dalai-Lama XIV in Russia, Mongolia and the CIS countries, Shadzhin-lama (Supreme Lama) of Kalmykia Telo Tulku Rinpoche.
During the meeting, Read the rest of this entry »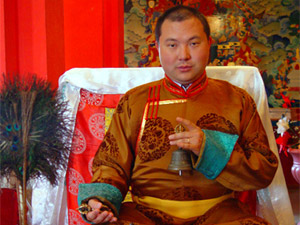 Telo Tulku Rinpoche (Dilowa Khutugtu)
Erdne Ombadykow (born October 27, 1972 in Philadelphia, Pennsylvania), also known as Telo Tulku Rinpoche, is the Tibetan Buddhist spiritual leader of the Kalmyk people. He received his formal training as a Buddhist monk in India and was recognized by the Dalai Lama as the current reincarnation of the Buddhist Mahasiddha Tilopa. Since 1992, he has served as the spiritual head of the Buddhists in Kalmykia. He divides his time between Kalmykia and his family in Erie, Colorado. Read the rest of this entry »
Dear pilgrims and tourists! [ Ru ]
May 31 and June 1, near Elista, the Supreme Lama of Kalmykia Telo Tulku Rinpoche bestows teaching the text 'Eight verses of Thought Transformation'. Read the rest of this entry »
"I am grateful that I exist in this world" – US-born Kalmyk Supreme Lama.
It is important not to give up hope, the sun is always going to shine tomorrow and there is always a brighter future, teaches Supreme Lama of Kalmykia Telo Tulku Rinpoche, born in America and preaching in Kalmykia. Read the rest of this entry »