Soon a lecture "Destination, Spirit and Soul in Tengrism" will be held in Elista.
This lecture is intended for those who are looking for their way in life, who doubt themselves or their chosen goals, who are looking for spiritual support, in general, for everyone who wants to live a full, interesting, full life. Read the rest of this entry »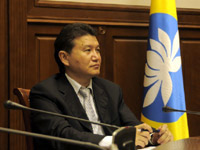 The Great Steppe Side Law was adopted for the first time in 1640 at a congress between Jungar and the Khalkhass khans. Those were troubled times, years of general discord. The tribes were scattered and weakened both by wars against external enemies as well as themselves.
Twenty-eight khans and three Buddhist activists grouped together to adopt the great steppe side law which aimed at eradicating internecine battles and conflicts between the khans which had torn the land apart for centuries. They gathered together to establish order and a durable peace on the territory of the Mongol Khanates. The wisdom of a nation is based on the experience of the past.
The Kalmyks say: Read the rest of this entry »