Posts Tagged 'Buddha Maitreya'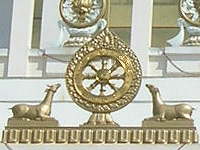 Today, July 31, in Kalmykia, as in the Buddhist world, celebrate a great holiday – Turning the Wheel of Dharma. On this day Sakyamuni Buddha in the sacred site of Varanasi read his disciples first sermon on the Four Noble Truths. Buddha discovered people that there is suffering in the world; that this suffering has a cause; that because of the causes of this suffering can be stopped and that is the way, exempting them from the circle of endless suffering. Read the rest of this entry »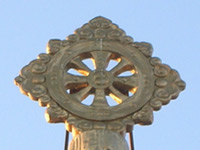 [ Ru | Es ] July 12 in Elista will take place Grand Celebration "First rotation the Wheel of Dharma".
About celebratory actions and entertainment rituals:
In the city of Elista, capital of Buddhist Republic Kalmykia, on July, 12th at 04.30AM interested persons can accept 8 vows of the Mahajana. 8 vows of the Mahajana are granted by the doctor of Buddhist philosophy Dr. Geshe Jampa, informs Department of religion and rituals of Fund of development of tourism of Kalmykia. Read the rest of this entry »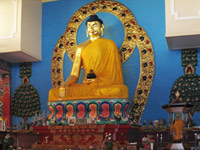 Buddhist holiday in Kalmykia. An important Buddhist holiday – First turning of the Wheel of Dharma
On the 23rd of July all the Buddhist of the world celebrate a huge holy day – the First Turning of the Wheel of Dharma. The ceremonial events take place in the central buddhist temple "Golden Abode of Buddha Shakyamuni".
This day Buddha Shakyamuni taughed his disciples the 1st sermon of the Four Noble Truths in the sacred place Varanasi. The Noble Truths are teachings about suffering, its origin and reasons; the cessation of suffering and its sources, and the fourth – about the true paths to the cessation of suffering. Read the rest of this entry »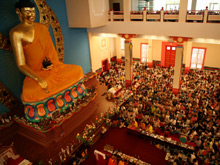 March 19 at the central khurul Kalmykia's held a festive prayer service, as this day is celebrated by Buddhists as a special date. On this day, Buddha Shakyamuni brilliantly concluded the discussion with representatives of the false teachings and to demonstrate their wonderful hit.
– Our teacher, Shakyamuni Buddha – one of the thousand Buddhas of this eon. (Aeon – a period that lasts for many years). On our continent it – the fourth. After many thousands of years expected arrival on our land fifth Buddha Maitreya. Buddha is always seeking for the good of beings wandering in the cycle of life. Every hour and every minute they create unlimited blessing for all life on Earth – says Ph.D., professor of venerable Lobsang Gyatso. Read the rest of this entry »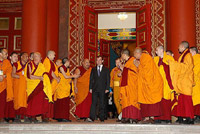 Evening of March 1, Russian President Dmitry Medvedev visited the central khurul of Kalmykia "Golden Abode of Buddha Shakyamuni" – the largest Buddhist temple in Russia and Europe.
Russian President Dmitry Medvedev, who came to the temple accompanied by the Head of Kalmykia, Alexei Orlov, met the head of the monastic community and the Buddhist Republic of Kalmykia Telo Tulku Rinpoche.
Snowy Hudak, presented to Russian President Dmitry Medvedev – a sign of warm hospitality and respect for the honored guest. A small tour of the temple began with the altar area, where Dmitry Medvedev, according to ancient tradition, Kalmyk, lit the lamp – a sign of respect for the people of Kalmykia. He looked looked at murals of the temple, met with museum exhibits, a conference room and library. Read the rest of this entry »