Posts Tagged 'Drag Racing Championship'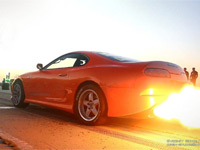 Sport in Kalmykia
Drag Racing Championship took place in Republic of Kalmykia.
Photos from the Drag Racing Championship: Read the rest of this entry »
September 29, on the runway at a military airfield in the Tselinnyj district will be held the championship dragsters of the Republic of Kalmykia.
According to the organizers, to participate in races allowed anyone drivers aged 18 years or older with a driver's license and state standard category.
Registration of participants will start at 9.00.
From 11.00 to Read the rest of this entry »