Posts Tagged 'drag racing'
Festival of Barchans 2023
Every year!
In the exotic southern Republic of Kalmykia, where the largest area of Russian deserts is located, for the first time the Festival of Barchans will be held on June 24-25 with the support of the Ministry of Culture and Tourism of the Republic of Kalmykia.
Read the rest of this entry »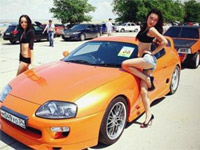 Drag racing in Kalmykia [ De | Ru | Es ]
KalmykiaNews: On Saturday, September 7, 2013, on the runway at a military airfield near the city of Elista, will be held Championship on drag racing of Republic of Kalmykia, reported by the Tourist Information Centre of Kalmykia.
Drag racing is a competition in which specially prepared automobiles or motorcycles compete, usually two at a time, to be first to cross a set finish line. Read the rest of this entry »