Posts Tagged 'greco-roman wrestling'
Sport [ It ]
December, 2.
Greco-Roman wrestling tournament in Artesian-city.
Ministry of Sports and Youth Policy of Republic of Kalmykia Read the rest of this entry »
Gold and kalmyk wrestler Sandzhi Karuev [ Ru ]
In Kiev, the capital of Ukraine hosted the international tournament on Greco-Roman wrestling.
Kalmyk wrestler Sandzhi Karuev won an international tournament in Greco-Roman wrestling in the weight category up to 76 kg. Read the rest of this entry »
Olympic Games wrestling results: Wrestler Mingiyan Semenov celebrates winning his men's Greco-Roman 55 kg Wrestling Bronze Medal bout against Gyujin Choi of the Republic of Korea on Day 9 at Olympic Games. Read the rest of this entry »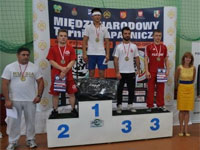 Wrestler from Kalmykia Mingiyan Semenov defeated on the Olympic Games in London 2012.
In first struggle young kalmyk russian wrestler Mingiyan Semenov meets with wrestler Rovshan Bayramov (Azerbaydzhan). Read the rest of this entry »
3 competitors from Kalmykia (Russia) participated in the Olympiad in London: Mingiyan Semenov (greco-roman wrestling), Alina Makarenko (gymnastics) and Lyudmila Bodnieva (handball). Read the rest of this entry »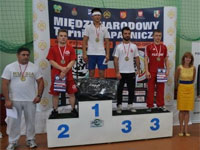 The young athlete from Kalmykia Mingiyan Semenov defeated in the finals of the international tournament in Poland (Europe), reported by international news agency KalmykiaNews.
Today, June 24 2012, kalmyk wrestler Semenov Mingiyan defeated fighter from Denmark, and won the gold medal!
Sport, health and success in life were the main priorities of the new generation blessed Kalmykia.
Now, the all Kalmyk people waiting Read the rest of this entry »