Posts Tagged 'Kalmyk fraternity'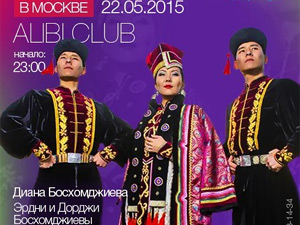 [ Ru ] Kalmyk brotherhood in Moscow will take place on may 22.
Unreal kalmykian entertainment!
Welcome! Read the rest of this entry »
[ Ru | Es ] On March 29, 2014 Kalmyks of Spain and Portugal are going to the next meeting of fraternity, KalmykiaNews reports. This time the marathon of the Kalmyk meetings moved to the capital of Catalonia — Barcelona, and celebration will be held in the Tibet house of Barcelona, the press secretary of the Kalmyk association of Spain and Portugal José Antonio Gonsalez informs on it. Read the rest of this entry »
[ Ru ] Thanks to the Kalmyk fraternity, in Spain was held Presentation of Kalmykia Republic and kalmyk art, reported a representative of the Department of International Relations of the Fund of Development of tourism in Kalmykia.
Presentation was initiated by the President of Kalmyk fraternity in Spain and Portugal Saglr Khartskhaeva.
Divination with help of shoulder blade Read the rest of this entry »