Posts Tagged 'kalmyk horse'
Events in Kalmykia [ Ru ]
On May 1, 2022, the administration of Ketchenerovsky District and Yergeninsky village invite everyone to the horse-sports competitions of the Kalmyk horse breed "And I ride the wind towards the wind", according to the head of the tourism department.
Venue: near the wonderful village of Yergeninsky, Ketchenerovsky District, Republic of Kalmykia, where the glorious and wise descendants of the Great Oirat-Kalmyk nomads live! Read the rest of this entry »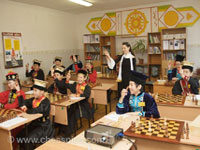 World chess champion Alexandra Kosteniuk visited Kalmykia [ De | Ru | Es ]
At the invitation of the President of Kalmykia, FIDE President Kirsan Ilyumzhinov, from 11 to 13 December Kalmyk Republic visited the world chess champion Alexandra Kosteniuk, reports KalmykiaNews.
During his visit to the Buddhist republic the world chess champion Alexandra Kosteniuk, met with the students of the Chess Academy of Elista.
World chess champion Alexandra Kosteniuk gave two simultaneous display and gave a master class in the Kalmyk National Gymnasium. Read the rest of this entry »