Posts Tagged 'kalmyk sheep'
On December 17, the Department of Animal Husbandry and Breeding Russian Ministry of Agriculture held a meeting of expert committees on the issue of access to the use of advances in animal breeding under the chairmanship of Director of Vladimir Labinov, reported KalmykiaNews agency.
Following the meeting, agreed to include in the State register of breeding achievements in sheep breeding: Read the rest of this entry »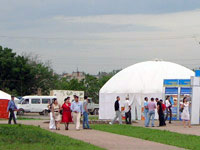 In Elista, the capital of the European Buddhism, began XIII All-Russian Exhibition of breeding sheep, reports KalmykiaNews. [ De | Ru | Fr | Es | It ]
Continued importation of breeding animals to the exhibition complex. Members of the Commission for Reception of animals and members of the Expert Commission has already started work.
In the exhibition will attended by about 20 farms of Kalmykia and about a hundred pedigree reproducers Read the rest of this entry »