Posts Tagged 'meditation'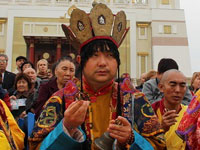 Dear friends!
It is with great happiness we would like to announce that Telo Tulku Rinpoche, Shadjin Lama of Kalmyk Republic and President of Buddhist Union of Kalmykia will be visiting Kalmyk Project this week.
We invite you to the teaching lecture by Telo Tulku Rinpoche where he will speak on "Four Noble Truths" followed Read the rest of this entry »
Practical seminar "Basics of Meditation"
[ De | Ru ]
Elista. A two-day practical seminar on spiritual meditations is to be held on the 8-9 of September at 17 p.m. in a Buddhist temple Gedden Sheddub Choy Korling by buddhist teacher Barry Kerzin, KalmykiaNews reports.
Everybody is invited to the two-day seminar to study basics of meditation. Read the rest of this entry »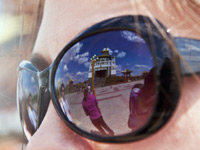 Letter from a girl who made ​​a trip to Elista. Development Fund for Tourism of the Republic of Kalmykia has received a letter from a girl who made ​​a trip to Elista. [ De | Fr | Es | Ru ]
Arriving in Elista, leaving their belongings in the hotel and went to see khurul (temple). Upon entering the courtyard my breath, the dream has come true, I'm on the verge of khurul! The building is magnificent and very beautiful.
Khurul (temple) walked around, turning the drums and looking around the yard. The soul rejoices! After visiting the monastery, there was a feeling that all the dear, kind of like back home. Sitting at prayer service, Read the rest of this entry »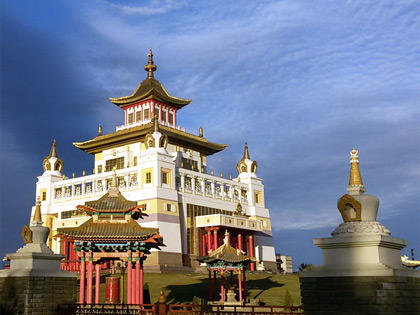 November 18 in Elista, come holy relics from Sri Lanka. This spring, during a visit to Sri Lanka, the FIDE President Kirsan Ilyumzhinov, he met with President of the Democratic Socialist Republic of Sri Lanka, Mr. Mahinda Rajapaksa.
During a friendly conversation the sides exchanged views on the development of economic and cultural ties, the implementation of bilateral exchanges, including through Buddhist organizations.
Also, Kirsan Ilyumzhinov in the temple of Sri Sambodhi Varayya took part in the celebration of Vesak Buddhist ceremony Kalapayya. At the ceremony, he awarded the honorary Buddhist title of "Mahanayake" for his services in the spread of Buddhism throughout the world. Read the rest of this entry »