Posts Tagged 'political parties'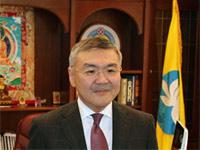 Initiative of the Head of Kalmykia Alexey Orlov establishing Kalmykia public organization with the name "For Fair Elections" was brought to life.
On Thursday, the Community Council met for its first meeting, which was attended by the Head of Kalmykia Alexey Orlov. Note that the board of representatives of all regional branches of political parties, journalists Read the rest of this entry »
Yesterday held the meeting in Elista, the representatives of some political parties and the public, at which it was decided to nominate Kirsan Ilyumzhinov for another presidential term.
With the support of his candidacy were made by representatives of the Committee to support Kirsan Ilyumzhinov, the regional branch Read the rest of this entry »