Posts Tagged 'Silk Road 2011'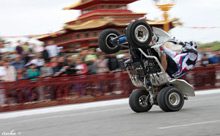 News from rally "Silk Road". Participants in the rally "Silk Road 2012" arrived one of the most improbable places on Earth, the little-known Republic of Kalmykia (Elista and Yashkul), reported KalmykiaNews.
This exciting race cars and trucks began a ceremony July 7 at the Red Square of Moscow (Russia). Read the rest of this entry »
Today, July 9, 2011, in Moscow, capital of Russia, on the Red Square rally launched the "Silk Road 2011".
Participants rally "Silk Road – 2011" to be overcome about 4,000 miles and come to the finish July 16 in the chic resort town of Sochi.
Rally route "Silk Road 2011" will pass through the city: Lipetsk, Volgograd, Astrakhan, Elista , Stavropol and Maikop and end at the ski center of the Olympic Games in 2014. Read the rest of this entry »