Posts Tagged 'Tatiana Milovanova'
Tatyana Milovanova visited the Festival in Russia (Krasnodar region).
On the picture:
Chief of Theatre costume and plastics Tatyana Milovanova Read the rest of this entry »
Events in Republic of Kalmykia:
In Kalmykia held an ethno-show "Legends of the steppe wind".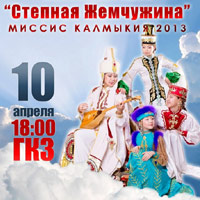 Missis Kalmykia 2013 [ Es | Ru ]
Beauty contest, intellect and talent "Steppen pearl" (Missis Kalmykia) was started at April, 10. Contest "Missis Kalmykia 2013" started in Elista, capital of buddhist Republic of Kalmykia, said the head of the Theatre costume and plastics Tatiana Milovanova.
April, 10.
18.00.
In the contest "Steppen pearl Missis Kalmykia 2013" will be attended representatives of the fair sex in the age from Read the rest of this entry »