Concert of ensemble "Tulpan" in Elista.
September 15 in Elista will host a concert of the ensemble "Tulip".
Welcome to Kalmykia! Read the rest of this entry »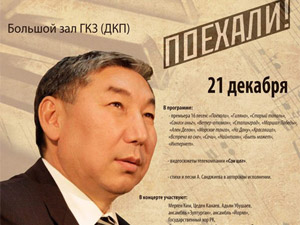 Recital and presentation of new songs by Arslang Sandzhiev in Elista, capital of Kalmykia.
In the concert involved:
Mergen Kim, Tseden Kanaev, Adyan Ubushaev, folk group 'Zulturgan', folk group 'Yoryal', folk dance group 'Tulpan' and other kalmyk stars.
December, 21.
18.00. Free entrance.
Welcome 21.12.12 Read the rest of this entry »