Posts Tagged 'Zaya Pandita'
Zaya Pandita
Zaya Pandita or Namkhaijamts (1599–1662) was a Buddhist missionary priest and scholar of Oirat origin who is the most prominent Oirat Buddhist scholar. Read the rest of this entry »
Monument to Zaya Pandita
Zaya Pandita or Namkhaijamts (1599–1662) was a Buddhist missionary priest and scholar of Oirat origin who is the most prominent Oirat Buddhist scholar.
Zaya Pandita was the fifth son of Babakhan, a minor Khoshut-Oirat prince. After Babakhan converted to Buddhism in the early 17th century, he, like many of the other Oirat princes, wished for one of his sons to enter the Buddhist clergy. In pursuit of his wish, Babakhan chose Zaya to become a bandi ("novice") monk. In 1615, Zaya journeyed to Lhasa, Tibet where he would study and practice Buddhism, including study under the guidance of the 4th Panchen Lama.
Read the rest of this entry »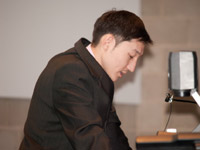 Chagdir Sandzhiev. The current state of Buddhism in Kalmykia
It's been more than 20 years since the collapse of the USSR and the beginning of the period of genuine religious freedom in Russia. Great changes happened both in the country as well as in the minds and hearts of the citizens during this period. Read the rest of this entry »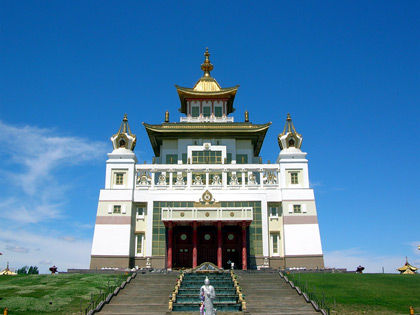 Program of Visit of Professor R. A. F. Thurman to the Kalmyk Institute for Humanities of the Russian Academy of Sciences
May 2, 2012.
I. Meeting and acquaintance of Professor R. A. F. Thurman with activity of the KIH RAS
9.30 – 9.45 Meeting of the Professor R. A. F. Thurman.
Welcome ceremony
9.45 – 10.45 Acquaintance with the Institute. Read the rest of this entry »