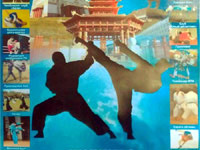 6th festival of fighting arts of Kalmykia will held in Elista on December 22, 2013. [ Ru ]
18 types of single combats participate: aikido, the Brazilian ju-jitsu, fighting sambo, vovinam viet vo dao, a greppling, judo and sambo, karate, karate a sito-ryu, karate shotokan, karate shinkyokushinkai, a kickboxing, kickboxing club "Brek", kendo, club of hand-to-hand fight "Young paratrooper", muay thai, taekwondo of WTF, national archery, hand-to-hand fight. Read the rest of this entry »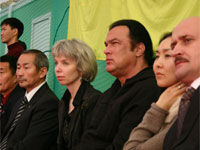 Steven Seagal has visited Kalmykia attractions [ De | Ru | Es | Fr ]
Professional movie fighter, star of Hollywood – Steven Seagal arrived in Kalmykia, reported KalmykiaNews. One Read the rest of this entry »
Chess is a required subject for all children in Kalmykia, a Buddhist region whose authoritarian president, Kirsan Ilyumzhinov, also happens to be the president of FIDE.
For years Kirsan Ilyumzhinov has been trying to make chess more appealing to television audiences by expediting the matches and encouraging running commentary. He even pushed successfully for mandatory drug testing for chess players Read the rest of this entry »
May 17, 1995 hosted the historic first meeting on the establishment of the Friendship Society "Kalmykia – Japan", reports KalmykiaNews.
At a meeting attended by about 50 people.
Founders were:
Kirsan Ilyumzhinov – Honorary President of the Society, the Head of the Republic of Kalmykia Read the rest of this entry »