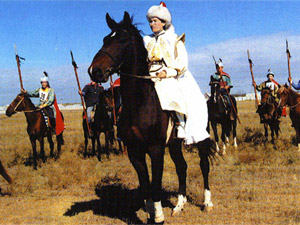 Legendary billioner Kirsan Ilyumzhinov from Kalmykia.
Kirsan Nikolayevich Ilyumzhinov (Russian: Кирсан Николаевич Илюмжинов) was born on the 5th of April 1962 in Elista, the capital of the Kalmykia
Kirsan Ilyumzhinov is a Buddhist Kalmyk multi-millionaire businessman and politician.
Education: Moscow State Institute of International Relations (Russia)
Early career
Kirsan Ilyumzhinov was started as young business manager in soviet-japan company in Moscow, capital of the Russia.
Political career
He was the first President of the Republic of Kalmykia of the Russian Federation from April 12, 1993 to October 24, 2010.
Has been the President of FIDE (or the "World Chess Federation"), the world's pre-eminent international chess organization, since 1995.
On September 29, 2010, Kirsan Ilyumzhinov was reelected as President of FIDE defeating his rival, Anatoly Karpov decisively – winning this election by 95 votes to 55.
He has also been in the forefront of promoting chess in schools in Russia and overseas. Founder of Novy Vzglyad Publishing House.
June 2012: Billionaire Kirsan Ilyumzhinov buys Bulgarian oil company "Petrol Holding"