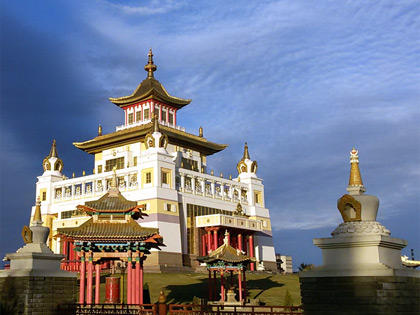 November 18 in Elista, come holy relics from Sri Lanka. This spring, during a visit to Sri Lanka, the FIDE President Kirsan Ilyumzhinov, he met with President of the Democratic Socialist Republic of Sri Lanka, Mr. Mahinda Rajapaksa.
During a friendly conversation the sides exchanged views on the development of economic and cultural ties, the implementation of bilateral exchanges, including through Buddhist organizations.
Also, Kirsan Ilyumzhinov in the temple of Sri Sambodhi Varayya took part in the celebration of Vesak Buddhist ceremony Kalapayya. At the ceremony, he awarded the honorary Buddhist title of "Mahanayake" for his services in the spread of Buddhism throughout the world. Read the rest of this entry »
Kirsan Ilyumzhinov bring in Kalmykia relics of Shakyamuni Buddha. During his official visit to Sri Lanka, the first President of the Republic of Kalmykia, FIDE President visited the ancient fortress city of Sigiriya, attended a service at the church of the Sacred Tooth Relic.
During the conversation with the abbot of the temple had been agreed that, in deference to the merits of the Buddhist Republic of Kalmykia in the spread of Buddhism in the republic will be brought relics of Shakyamuni Buddha, as well as the germ of a sacred tree Jaya Sri Maha Bodhi, nurtured, according to the legend of the ridge tree under which the Buddha Sakyamuni was enlightened, and brought to Sri Lanka in 288 BC Emperor Ashoka. Read the rest of this entry »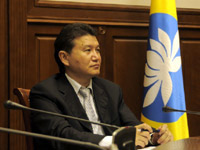 President of Kalmykia Kirsan Ilyumzhinov about Ashoka and Mahatma Gandhi
Three centuries prior to the birth of Christ the great Indian king Ashoka defeated his enemy. However, the terrible slaughter which had preceded victory radically changed Ashoka's attitudes. From that time on, he renounced war and begun to blaze a trail of peace. Ashoka's words – in which the king tells of his repentance and loathing of war – were carved in stone and metal for the edification of future generations of his people. "The only victory", he wrote, "is one over oneself and the winning of people's hearts by means of law, duty and piety."
He concluded peace agreements with both his neighbors and more remote kingdoms, following the fundamental tenet of Buddhist teaching: non-violence, non coercion and religious tolerance. All over the country hospitals and gardens blossomed, along with a network of wells and roads. In the 3rd century B.C. King Ashoka founded Read the rest of this entry »