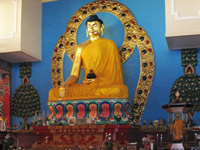 Dear pilgrims and tourists! [ Ru ]
The administration of the central temple 'Golden Abode of Buddha Shakyamuni' reported on the program of holiday activities 'Birthday of the Buddha Shakyamuni' on May 25, 2013.
Buddha's Birthday – this is a significant date in the life of the Kalmyk people, the only Buddhist nation in Europe.
The program of activities: Read the rest of this entry »