Posts Tagged 'Gyudmed Monastery'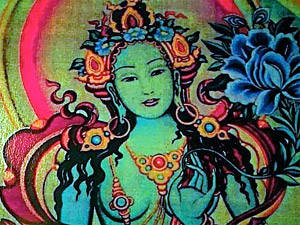 Mandala in Ulan-Khol
During the week Buddhist monks from Drepung Gomang Monastery and Gollege and Gyudmed Tantric Monastic School (Tibet) will be constructing the sacred sand mandala of Green Tara in Ulan-Khol village of Lagan district of Republic of Kalmykia.
On the Sunday of the 12th of June, it is planned the triumphant destruction Read the rest of this entry »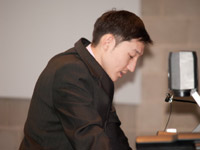 Chagdir Sandzhiev. The current state of Buddhism in Kalmykia
It's been more than 20 years since the collapse of the USSR and the beginning of the period of genuine religious freedom in Russia. Great changes happened both in the country as well as in the minds and hearts of the citizens during this period. Read the rest of this entry »
[ En | Ru ] Today, on September 24, 2011, in Elista, the capital of Kalmykia, a ceremony of light offerings to the Buddha took place.
Thousands of residents and guests of Blessed Kalmykia took part in this ritual that was held at the Golden Abode of Buddha Shakyamuni.
People meditated for the benefit of all people in the world. Read the rest of this entry »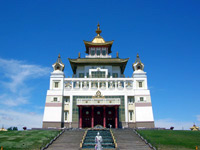 The construction of the mandala and Buddhist rituals held in Elista, the capital of the Republic of Kalmykia (Southern Russia). September 8, 2011 in Kalmykia profit of 11 monks tantric monastery Gyudmed, and, according to administrator khurul venerable gene Lodoe arrived Buddhist monks will prepare everything for the upcoming late September large Buddhist rituals which they hold jointly with the monks of Kalmykia.
The current visit of the monks of the monastery Gyudmed held at the personal invitation shadzhin Lama of Kalmykia Telo Tulku Rinpoche, and with the support of Kamba Lama of Tuva. Read the rest of this entry »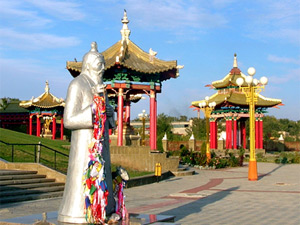 International Forum "Buddhism: Philosophy of non-violence and compassion" will be held in Kalmykia. September 22 to October 2, the main temple of Kalmykia, the only Buddhist republic in Europe, will open its doors to members of the International Forum scale "Buddhism: Philosophy of non-violence and compassion," which is an initiative of shadzhin Kalmykia Lama Telo Tulku Rinpoche.
Away from Buryatia and Tuva, Moscow and St. Petersburg, Mongolia, Thailand, India and the United States will gather for a round table to discuss the vital problems of modern society, to a thoughtful decision today which calls on Buddhist spiritual leader His Holiness the Dalai Lama. Read the rest of this entry »