Posts Tagged 'Hidden Republic'
Republic of Kalmykia is the only Buddhist region in Europe. Descendants of the Great Nomads live here.
Kalmykia is a unique region, an area of vast steppes and deserts in Europe.
In old times the Great Silk Way was here, the hordes of the ancient Scythians, Huns, Sarmats roamed in these steppes and Khazars built towns here.
Nowadays the shortest automobile, railway and air routes connecting the Caucasus with Nizhnee Povolzhje and the central Russia run through this territory.
Eastern boundary of Kalmykia are washed by the Caspian Sea, and the great Russian river Volga flows through territory of Kalmykia. Read the rest of this entry »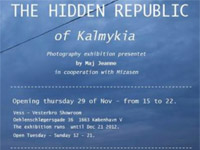 In late October Kasper Boye, Sune Gjerding and Maj Jeanne traveled to Kalmykia (Russia) to document this small republic, said representative of International department of KalmykiaTour company to KalmykiaNews agency.
We have now returned mystified by a country providing more questions than answers. A place where people seem to have lost their innocence despite their incomprehensible story where the main dynamometer cityscape made ​​up of equal parts of Buddhist monuments, the KGB buildings and chess-pieces-board-enthusiasm. Read the rest of this entry »