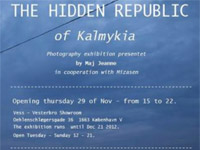 In late October Kasper Boye, Sune Gjerding and Maj Jeanne traveled to Kalmykia (Russia) to document this small republic, said representative of International department of KalmykiaTour company to KalmykiaNews agency.
We have now returned mystified by a country providing more questions than answers. A place where people seem to have lost their innocence despite their incomprehensible story where the main dynamometer cityscape made ​​up of equal parts of Buddhist monuments, the KGB buildings and chess-pieces-board-enthusiasm.
The capital Elista is surrounded by the endless delete the gaze can search all the way to the horizon without encountering another soil and the dry grass.
May Jeanne has set up an exhibition of the selected photographs of a personalized travel experience from Kalmykia, the hidden republic.
Come by for the opening Thursday 29/11 – we will be happy to see you!
Kasper, Sune and Maj
VESS, Vesterbro Showroom,
Oehlenschlægersgade 36, 1663 Copenhagen
Denmark, Europe