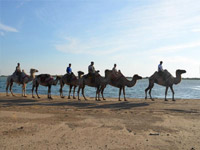 Fedor Konyukhov expedition across the steppes of Kalmykia. In the group of 10 scientists: soil scientists, archaeologists, sociologists, botanists, ecologists, ornithologists and lawyers from France, Netherlands, Russia (Moscow) and the Kalmykia, reports Department of Foreign Relations of KalmykiaNews.
Fedor Konyukhov took care of the preservation of unique finds Read the rest of this entry »
In 2002 President of Kalmykia Kirsan Ilyumzhinov visited Dalai Lama XIV in Dharamsala (Dharmasala) to deliver in invitation to the Teacher to visit Kalmykia in September 2002, reported Kalmyk NewsPaper.
During his visits the President of the Republic of Kalmykia Kirsan Ilyumzhinov informed Dalai Lama XIV about the spiritual and social-economic programs Read the rest of this entry »