His Holiness the 14th Dalai Lama of Tibet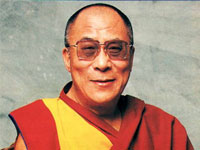 The Dalai Lama is a high lama in the Gelug or "Yellow Hat" branch of Tibetan Buddhism. The name is a combination of the Sino-Mongolian word далай (dalai) meaning "Ocean" and the Tibetan word བླ་མ་ bla-ma (with a silent "b") meaning "chief, high priest".
In religious terms, the Dalai Lama is believed by his devotees to be the rebirth of a long line of tulkus who are considered to be manifestations of the bodhisattva of compassion, Avalokiteśvara. Traditionally, the Dalai Lama is thought of as the latest reincarnation of a series of spiritual leaders who have chosen to be reborn in order to enlighten others. The Dalai Lama is often thought to be the leader of the Gelug School, but this position belongs officially to the Ganden Tripa, which is a temporary position appointed by the Dalai Lama who, in practice, exerts much influence. The line of Dalai Lamas began as a lineage of spiritual teachers; the 5th Dalai Lama assumed political authority over Tibet.
For certain periods between the 17th century and 1959, the Dalai Lamas sometimes directed the Tibetan government, which administered portions of Tibet from Lhasa. The 14th Dalai Lama remained the head of state for the Central Tibetan Administration ("Tibetan government in exile") until his retirement on March 14, 2011. He has indicated that the institution of the Dalai Lama may be abolished in the future, and also that the next Dalai Lama may be found outside Tibet and may be female. The Chinese government was very quick to reject this and claimed that only it has the authority to select the next Dalai Lama.
* * *
Visits to Kalmykia:
July 1991: His Holiness the Dalai Lama XIV visited Kalmykia
September 1992: Second Dalai Lama's visit in the Kalmykia
November 2004: His Holiness the Dalai Lama XIV visited Republic of Kalmykia.
* * *