Posts Tagged 'Berik Balgabaev'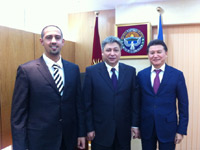 On February 1-2, the FIDE President visited Bishkek, Kyrgyzstan. He participated in the congress of the Kyrgyzstan Chess Federation and had meetings with the country's Government.
On the first day of his official visit President Ilyumzhinov met with Erlan Abdyldaev, Minister of Foreign Affairs of Republic of Kyrgyzstan.
Sheikh Sultan Bin Khalifa Al-Nehyan, Continental President for Asia, was also present at the meeting held in a pleasant atmosphere (Kirsan Ilyumzhinov and Erlan Abdyldaev are graduates of Moscow State Institute of International Relations.) The possible cooperation between Government Read the rest of this entry »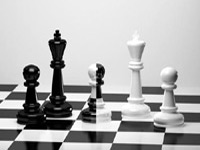 Former President of the Republic of Kalmykia and President of the World Chess Federation (FIDE) Kirsan Ilyumzhinov visited Kiev, the capital of the Ukraine, where he had working meetings with the Minister for Family, Youth and Sports of Ukraine Mr Ravil Safiullin and the leadership of the Ukrainian Chess Federation. Read the rest of this entry »