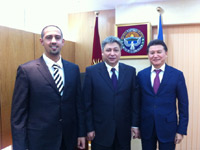 On February 1-2, the FIDE President visited Bishkek, Kyrgyzstan. He participated in the congress of the Kyrgyzstan Chess Federation and had meetings with the country's Government.
On the first day of his official visit President Ilyumzhinov met with Erlan Abdyldaev, Minister of Foreign Affairs of Republic of Kyrgyzstan.
Sheikh Sultan Bin Khalifa Al-Nehyan, Continental President for Asia, was also present at the meeting held in a pleasant atmosphere (Kirsan Ilyumzhinov and Erlan Abdyldaev are graduates of Moscow State Institute of International Relations.) The possible cooperation between Government of the country and FIDE to promote and develop chess in Kyrgyzstan was discussed.
The same day the FIDE President participated in the opening ceremony of a tournament among the congress delegates. The tournament was devoted to the opening of the new chess season in Kyrgyzstan.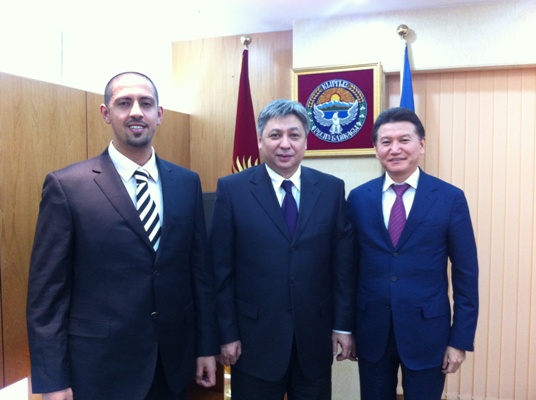 On February 2, President Ilyumzhinov participated in the congress of Kyrgyzstan CF where Milan Turpanov was elected as the new President of the federation. As it was noted by Berik Balgabaev, this congress is to become a landmark in the development of Kyrgyz chess as it united two chess organizations. "The FIDE President's participation in the congress assisted the unification of chess organizations of Kyrgyz Republic under the auspices of Kyrgyzstan Chess Federation", said Berik Balgabaev.
Omurbek Babanov (ex-prime minister of Kyrgyz Republic )resigned from post of President of chess federation of Kyrgyzstan but will continue rendering assistance in chess development around the country as a leader of one of the major Kyrgyz political parties, "Republic". As it was mentioned by President Ilyumzhinov in his twitter, Omurbek Babanov has already said that he will contribute to the passage of a law about chess in the Kyrgyz Parliament.
The same day FIDE President met with Zhantoro Satybaldiyev, Prime Minister of Kyrgyzstan. It was noted at the meeting that last year was a fruitful one for cooperation with FIDE. In particular, the most major sport event held in 2012 in Kyrgyzstan was the Central Asian Chess Championship. Both parties agreed that this cooperation should be continued by new joint projects between the Kyrgyz Parliament and FIDE. Special attention should be paid to the development of children's chess. "The questions of vital importance were discussed as well. In particular, the Prime Minister promised to solve the provision of new premises for chess federation of Kyrgyzstan", said Berik Balgabaev.