Posts Tagged 'Buddhist monastery'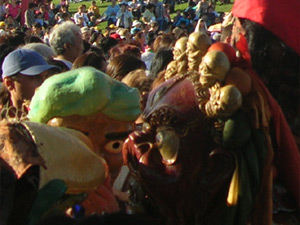 Cham Dance Mystery [ En | De | Ru | Es ]
Cham Dance Mystery took place in Kalmykia.
In the ceremony of Cham Read the rest of this entry »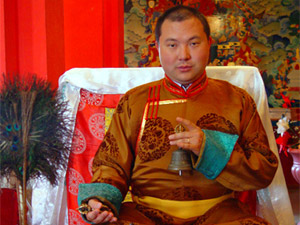 Telo Tulku Rinpoche, an influential Tibetan Buddhist leader of the Kalmyk people, has been appointed as the new Honorary Representative of His Holiness the Dalai Lama at the Tibet Culture & Information Centre (Office of Tibet) in Moscow, Russia.
He will take over as the new Representative once the paper works of the outgoing Representative Dr. Ngawang Rabgyal is complete.
Telo Rinpoche is the spiritual head of the Tibetan Buddhist tradition in Kalmykia. Born to a Kalmyk Mongolian family in the USA, he studied at a Tibetan Buddhist monastery in South India at the age of 7. Read the rest of this entry »
Buddhist seminars! [ De | Ru | Es | It | Fr ]
Dear pilgrims and residents of Kalmykia!
On Saturday, August 24 at 10:00 am, all are invited to a Buddhist monastery 'Geden Sheddup Choi Korling', where Geshe Lhakdor hold a seminar 'The practice of confession to the 35 Buddhas repentance' and the practice of Vajrasattva, reported by the Head of the Department of Religion and rituals of the Development Fund tourism Kalmykia. Read the rest of this entry »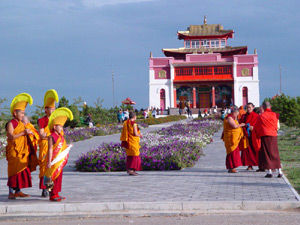 The visit of the Kundeling Rinpoche to Kalmykia. The program shows the date, time, event and venue.
2012 August 23 Thursday
15:00 Arrival in Elista. Exit to the press. Airport of the Elista city.
2012 August 24 Friday
9:15 – 10:15 Visit to buddhist monastery "Geden Sheddup Choi Korling" (Arshansky khurul) Tour in the monastery.
10:30 – 12:00 Arrive at Central buddhist temple of Kalmykia "Golden Abode of Buddha Shakyamuni". Tour in the central temple.
13:00 – 16:00 Tour of the Elista-city. Visit to City Chess, the National Museum to them. Palmov, the monument "Exodus and Return". Elista.
18:00 Kalmyk concert. Government group "KalmConcert" Elista. Read the rest of this entry »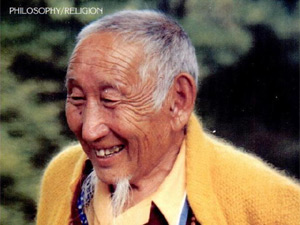 Ngawang Wangyal [ De ]
(Wylie: Ngag-dbang Dbang-rgyal) (c. 1901-1983), popularly known as "Geshe Wangyal," was a Buddhist priest and scholar of Kalmyk origin who was born in the Astrakhan province in southeast Russia sometime in 1901. Read the rest of this entry »
Head of the Republic of Kalmykia Aleksey Orlov visited unique tantric monastery lord Tszonkapy – first tantric temple in Kalmykia. Read the rest of this entry »