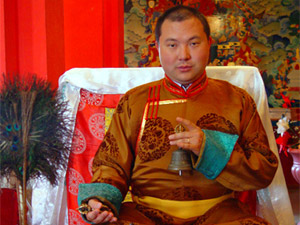 Telo Tulku Rinpoche, an influential Tibetan Buddhist leader of the Kalmyk people, has been appointed as the new Honorary Representative of His Holiness the Dalai Lama at the Tibet Culture & Information Centre (Office of Tibet) in Moscow, Russia.
He will take over as the new Representative once the paper works of the outgoing Representative Dr. Ngawang Rabgyal is complete.
Telo Rinpoche is the spiritual head of the Tibetan Buddhist tradition in Kalmykia. Born to a Kalmyk Mongolian family in the USA, he studied at a Tibetan Buddhist monastery in South India at the age of 7. He has been recognised by His Holiness the Dalai Lama.
Dr. Ngawang Rabgyal, the current Representative of His Holiness the Dalai Lama in Russia, has been transferred to the Department of Education in Gangchen Kyishong as its new Secretary. He will join office once his paper works are complete.