Posts Tagged 'Kalmyk monks'
Zaya Pandita
Zaya Pandita or Namkhaijamts (1599–1662) was a Buddhist missionary priest and scholar of Oirat origin who is the most prominent Oirat Buddhist scholar. Read the rest of this entry »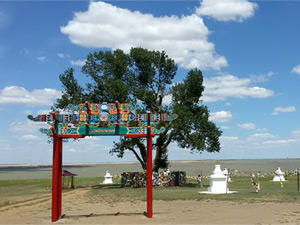 June 2 in the Republic of Kalmykia will take place the Ritual of Fire "Gal Tyaklhn".
The ritual will be conducted by the Tibetan Kalmyk monks and lamas from Khurul "The Golden Abode of Buddha Shakyamuni" near Read the rest of this entry »
Video: Head of the Republic of Kalmykia Alexey Orlov met with Buddhist leader Telo Tulku Rinpoche.
Talking in blessed Kalmykia. Read the rest of this entry »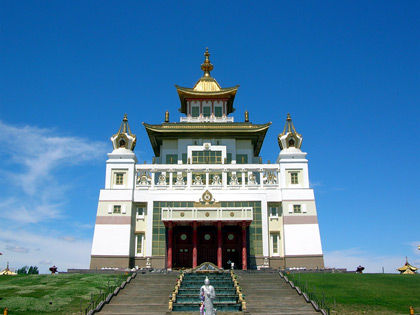 October 6, 2012, at 9:00, in Elista, the capital of blessed Kalmykia will tantric ritual "Yangdrub" – a ritual invocation of prosperity and wealth, according KalmykiaNews and KalmykiaTour.
This ritual people bring home vessels wealth which usually carefully stored in secret places.
Buddhist monks, referring to the gods, asking to send all living beings luck and health, wealth and Read the rest of this entry »
Monument to Zaya Pandita
Zaya Pandita or Namkhaijamts (1599–1662) was a Buddhist missionary priest and scholar of Oirat origin who is the most prominent Oirat Buddhist scholar.
Zaya Pandita was the fifth son of Babakhan, a minor Khoshut-Oirat prince. After Babakhan converted to Buddhism in the early 17th century, he, like many of the other Oirat princes, wished for one of his sons to enter the Buddhist clergy. In pursuit of his wish, Babakhan chose Zaya to become a bandi ("novice") monk. In 1615, Zaya journeyed to Lhasa, Tibet where he would study and practice Buddhism, including study under the guidance of the 4th Panchen Lama.
Read the rest of this entry »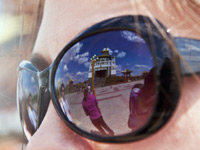 Letter from a girl who made ​​a trip to Elista. Development Fund for Tourism of the Republic of Kalmykia has received a letter from a girl who made ​​a trip to Elista. [ De | Fr | Es | Ru ]
Arriving in Elista, leaving their belongings in the hotel and went to see khurul (temple). Upon entering the courtyard my breath, the dream has come true, I'm on the verge of khurul! The building is magnificent and very beautiful.
Khurul (temple) walked around, turning the drums and looking around the yard. The soul rejoices! After visiting the monastery, there was a feeling that all the dear, kind of like back home. Sitting at prayer service, Read the rest of this entry »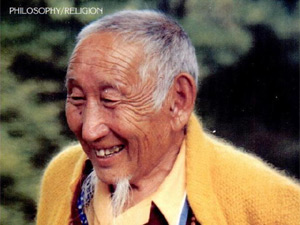 Ngawang Wangyal [ De ]
(Wylie: Ngag-dbang Dbang-rgyal) (c. 1901-1983), popularly known as "Geshe Wangyal," was a Buddhist priest and scholar of Kalmyk origin who was born in the Astrakhan province in southeast Russia sometime in 1901. Read the rest of this entry »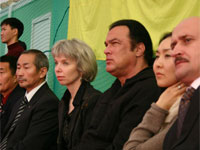 Steven Seagal has visited Kalmykia attractions [ De | Ru | Es | Fr ]
Professional movie fighter, star of Hollywood – Steven Seagal arrived in Kalmykia, reported KalmykiaNews. One Read the rest of this entry »