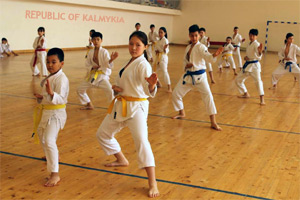 Sport News.
Head of the Republic of Kalmykia Alexey Orlov visited karate school in Elista.
Trainer Erdni Nardzhiev said: Read the rest of this entry »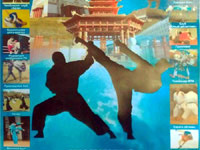 6th festival of fighting arts of Kalmykia will held in Elista on December 22, 2013. [ Ru ]
18 types of single combats participate: aikido, the Brazilian ju-jitsu, fighting sambo, vovinam viet vo dao, a greppling, judo and sambo, karate, karate a sito-ryu, karate shotokan, karate shinkyokushinkai, a kickboxing, kickboxing club "Brek", kendo, club of hand-to-hand fight "Young paratrooper", muay thai, taekwondo of WTF, national archery, hand-to-hand fight. Read the rest of this entry »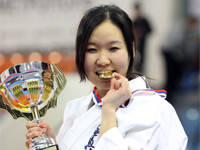 [ Ru ] Beautiful girl from the Republic of Kalmykia Bayirta Manzhikova took 5th place in the World Cup Karate Kyokushin Kaikan in Tokyo (Japan). Kyokushin kaikan is a style of stand-up, full contact karate, founded in 1964 by Korean-Japanese karate master, Sosai Masutatsu Oyama.
In the discipline of tamesivari (breaking of hard objects) Read the rest of this entry »