Posts Tagged 'russian actor'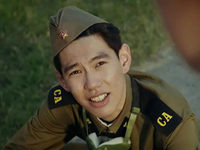 Young kalmyk actor Eugene Sangadzhiev in the film about Stalin. He was born on June 5, 1986 in Elista, reports Independent Kalmyk Art Center. Eugene Sangadzhiev in 2005 he graduated from the College of Arts in Elista (Department of choreography).
This film is the most expecting in this year. We all can have different attitude to this great person but we can't deny that he had strong and hard character.
From the one side, he Read the rest of this entry »