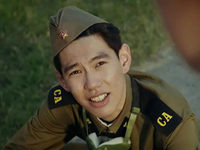 Young kalmyk actor Eugene Sangadzhiev in the film about Stalin. He was born on June 5, 1986 in Elista, reports Independent Kalmyk Art Center. Eugene Sangadzhiev in 2005 he graduated from the College of Arts in Elista (Department of choreography).
This film is the most expecting in this year. We all can have different attitude to this great person but we can't deny that he had strong and hard character.
From the one side, he was a dictator, destroying whole nations, but from the other side he was a real leader who could unite people for the fight with fascist invaders.
However, this serial film is not about Stalin, it is about his beloved son Vasiliy. Whose fate in contrast to his relatives was quite tragic.
After the mysterious death of his father his life has changed for the worse. In the Second World War Vasiliy did not stay in the rear and went to the front. The film was shot in Russia and Belarus. Stalin's role was played by the famous actor Anatoly Dzivaev. The role of Vasiliy played the young actor Gela Meshi.
In film professional 26-year old pilot, Lieutenant General Vasily Stalin who was famous as womanizer and reveler is shown us from the other side. The movie will interest Kalmyk audience because of actor 7th Studio Art Theatre of Kirill Serebrenikov – Eugene Sangadzhiev.
His character is one of the cadets of Kaczynski Higher Military Aviation School, who studied with Vasiliy. Eugene, by the way, is playing under his own name. We should note that our countryman has very good filmography.
Roles in "The Brest Fortress" ("Брестская Крепость"), "Beekeeper" ("Пасечник"), "Butterfly" ("Мотылек"), "Stervy" ("Стервы") and other films, though were episodic, but memorable by bright talented young actor playing. And in the movie "Incendiary" ("Провокатор") Sangadzhiev perfectly played the main role – senior lieutenant of police.
Elista, Republic of Kalmykia, Russia, Europe