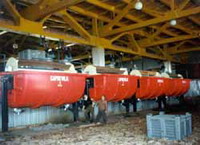 Primary wool processing factory "Elmi" was commissioned in 1996 in Elista. Processing capacity – 20 thousand tons of wool in bulk.
The factory "Elmi" is equipped with modern automated equipment company "Amalric Internationale" (France) and has advantages over existing counterparts, particularly in the energy intensity of the final product. Read the rest of this entry »
According to the department of agricultural farms in the RMS Republic went to haircut 426.8 thousand head of sheep. On June 17 this year, 261.6 thousand heads shorn, the wool clip was 828.6 tons. Average clipping on a head – 3.2 kg. Shearing campaign continues.
The country continues receiving calves: in farms received 31 427 calves out of 78 calves per 100 cows and heifers. Over 131,300 calves received in peasant farms. The largest number of calves on farms received Yashkul, Ketchenerovsky and Yustinsky areas. Read the rest of this entry »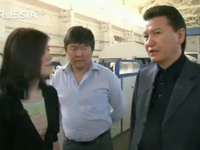 Technology
In Elista (Republic of Kalmykia) commissioned primary wool processing factory "Elmi".
Introduced a high-performance and low-cost technology washing wool, with high-quality characteristics of the final product. Read the rest of this entry »