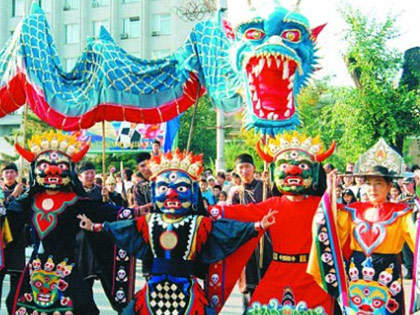 Photo exhibition
Photo exhibition "The hidden Republic – Pictures from Kalmykia" was opened in Denmark. Kasper Boye told about Kalmykia.
Kalmykia is Europe's only Buddhist nation. It is located on the North Caucasus – with almost equidistant to the Black Sea in the west, the Caspian Sea in the east, Volgograd (formerly Stalingrad) in the north and the conflict-ravaged Chechnya in the south.
Kalmykia is a republic in the Russian Federation. They have their own parliament, but the political leader appointed from Moscow.
Ethnic kalmyks up more than half of the population (the rest are Russians, kasakher, etc..). They are descendants of the Mongol tribe Oirat that early in the 1600s crossed the Urals to ravage and rule on the Caucasian plains. Tribe made a pact with Peter the Great, who offered them freedom – and guns – on the use of their Mongol steel and horses in the defense of southern borders of Russian Empire. Read the rest of this entry »
Tags:
Black sea
,
Caspian sea
,
Chess city
,
Chuck Norris
,
Denmark
,
history
,
investors
,
Kalmyk history
,
Kalmykia
,
Khrushchev
,
Kirsan Ilyumzhinov
,
Moscow
,
Muammar Gaddafi
,
Peter the Great
,
Russia
,
Russian Empire
,
Russian Federation
,
Saddam Hussein
,
Stalin
,
Steven Seagal
,
Volgograd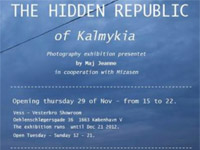 In late October Kasper Boye, Sune Gjerding and Maj Jeanne traveled to Kalmykia (Russia) to document this small republic, said representative of International department of KalmykiaTour company to KalmykiaNews agency.
We have now returned mystified by a country providing more questions than answers. A place where people seem to have lost their innocence despite their incomprehensible story where the main dynamometer cityscape made ​​up of equal parts of Buddhist monuments, the KGB buildings and chess-pieces-board-enthusiasm. Read the rest of this entry »
Tags:
answers
,
Buddhist monuments
,
Copenhagen
,
Denmark
,
Elista
,
exhibition
,
Hidden Republic
,
Kalmykia
,
KGB
,
monuments
,
oil
,
personalized travel
,
photos
,
questions
,
Russia
,
small republic
,
Travel
,
VESS
,
Vesterbro Showroom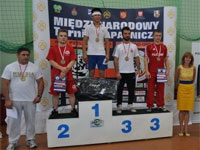 The young athlete from Kalmykia Mingiyan Semenov defeated in the finals of the international tournament in Poland (Europe), reported by international news agency KalmykiaNews.
Today, June 24 2012, kalmyk wrestler Semenov Mingiyan defeated fighter from Denmark, and won the gold medal!
Sport, health and success in life were the main priorities of the new generation blessed Kalmykia.
Now, the all Kalmyk people waiting Read the rest of this entry »
Tags:
Blessed Kalmykia
,
Denmark
,
Europe
,
greco-roman wrestling
,
health
,
International tournament
,
Kalmykia
,
London
,
London 2012
,
London Olympics
,
Mingiyan Semenov
,
new generation
,
Olympic Games
,
Poland
,
success
,
wrestlers
,
wrestling