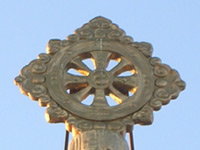 [ Ru | Es ] July 12 in Elista will take place Grand Celebration "First rotation the Wheel of Dharma".
About celebratory actions and entertainment rituals:
In the city of Elista, capital of Buddhist Republic Kalmykia, on July, 12th at 04.30AM interested persons can accept 8 vows of the Mahajana. 8 vows of the Mahajana are granted by the doctor of Buddhist philosophy Dr. Geshe Jampa, informs Department of religion and rituals of Fund of development of tourism of Kalmykia. Read the rest of this entry »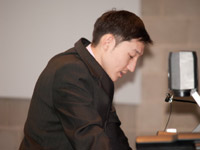 Chagdir Sandzhiev. The current state of Buddhism in Kalmykia
It's been more than 20 years since the collapse of the USSR and the beginning of the period of genuine religious freedom in Russia. Great changes happened both in the country as well as in the minds and hearts of the citizens during this period. Read the rest of this entry »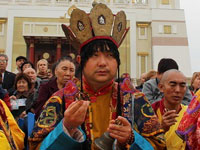 Supreme Lama of Kalmykia Telo Tulku Rinpoche, is involved in the Global Buddhist Congress. These days in New Delhi is a major event, called the Global Buddhist Congress, said the publication Hindustan Times.
The Congress brought together Buddhists from around the world, from different countries, continents and different schools. The purpose of the congress – the creation of "International Buddhist Confederation". Also at the conference will discuss the following questions: "Preservation and development of Buddhism", "Life and development: Buddhism in a rapidly changing world", "Collective wisdom: where delegates will share their conditions, opportunities and threats faced by practitioners of the Dharma throughout the world", "Ecology and Buddhism", " Politics and Society: The interaction with the world of Buddhism", "Conflict and Violence: A Buddhist", " Science and Technology Buddhist point of view" and many others. Read the rest of this entry »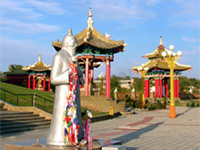 Yesterday, 26 April, the central khurul "Golden Abode of Buddha Shakyamuni" was the ceremony of consecration of the statue of Sakyamuni Buddha. In addition, the monks consecrate all brought from the village Primanych sacred objects, which will be incorporated in the stupa of enlightenment. Among them are statue of Buddha Akshobhya. It is this deity advised the villagers to put in a niche stupa shadzhin Lama of Kalmykia Telo Tulku Rinpoche.
Read the rest of this entry »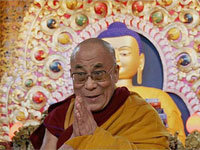 Ten thousands of believers in Buddha, Dharma and Sangha came from all parts of Russia and Kalmykia to Elista in 1991 to receive the Teaching and Blessing of Dalai Lama XIV, the incarnation of bodhisattva Avalokiteshvara.
Dalai Lama said "It is necessary to revive the traditional faith of the ancestors, to rebuild the temples, stupas of enlightenment and suburgans but above all it is important to build the temple in one's soul". Read the rest of this entry »