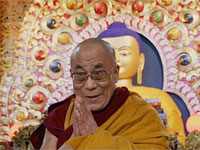 Ten thousands of believers in Buddha, Dharma and Sangha came from all parts of Russia and Kalmykia to Elista in 1991 to receive the Teaching and Blessing of Dalai Lama XIV, the incarnation of bodhisattva Avalokiteshvara.
Dalai Lama said "It is necessary to revive the traditional faith of the ancestors, to rebuild the temples, stupas of enlightenment and suburgans but above all it is important to build the temple in one's soul".
For the next ten years this precept of Dalai Lama XIV has been implemented and an important role in this process has been played by Kirsan Ilyumzhinov who became the first President of Kalmykia in April 1993.
Elista, Kalmykia