Posts Tagged 'Geshe Dugda'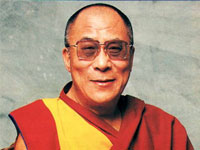 By tradition, the celebration of the birth of the leader of Buddhists the world, a mentor and teacher of the Kalmyk people of His Holiness the Dalai Lama in the country are preparing in advance. Birthday of His Holiness has long been to Kalmyk event, which they considered to be one of the most important holidays. It has become well-established tradition widely celebrate the birth of his spiritual mentor, Master of His Holiness the Dalai Lama.
On this day, early in the morning in the courtyard of the central buddhist temple "Golden Abode of Buddha Shakyamuni," the monks held a ceremony of "Sangso." In this ritual was attended by the laity, the vows, which they keep clean, consolidated, and those who have been violated by the rite "Sangso" restored. Completed the rite ritual offerings to deities. Read the rest of this entry »
Today, 10 April 2011, students venerable Geshe-lharamba Tenzin Dugda went to a place of seclusion for the practice of Vajra. Ph.D., professor of Geshe lharamba Tenzin Dugda completed gift of oral comments to the practice of this deity. I must say that the commentary to the practice of Vajra it provides many times and every year more and more Buddhists take part in the exercises.
Geshe-lharamba Tenzin Dugda – a true vajra master, is a carrier and the successor of the major transmission lines teachings secret mantra to him by his spiritual mentor, the great practitioners of the sutra and tantra. Read the rest of this entry »