Posts Tagged 'Peter the Great'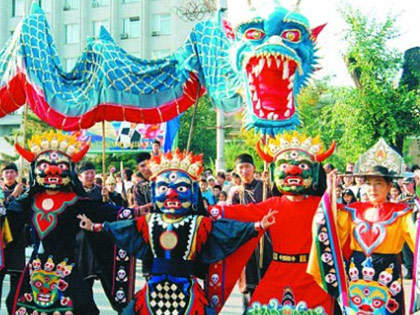 Photo exhibition
Photo exhibition "The hidden Republic – Pictures from Kalmykia" was opened in Denmark. Kasper Boye told about Kalmykia.
Kalmykia is Europe's only Buddhist nation. It is located on the North Caucasus – with almost equidistant to the Black Sea in the west, the Caspian Sea in the east, Volgograd (formerly Stalingrad) in the north and the conflict-ravaged Chechnya in the south.
Kalmykia is a republic in the Russian Federation. They have their own parliament, but the political leader appointed from Moscow.
Ethnic kalmyks up more than half of the population (the rest are Russians, kasakher, etc..). They are descendants of the Mongol tribe Oirat that early in the 1600s crossed the Urals to ravage and rule on the Caucasian plains. Tribe made a pact with Peter the Great, who offered them freedom – and guns – on the use of their Mongol steel and horses in the defense of southern borders of Russian Empire. Read the rest of this entry »
"Buddhism in Russia" exhibition in Bhutan. A "Buddhism in Russia" exhibition has opened in Bhutan.
This is the first time such an exhibition has been organized in the Himalayan kingdom. Read the rest of this entry »