Posts Tagged 'reincarnation'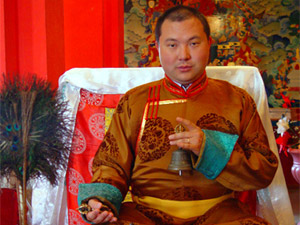 We invite you to meet with the honorary representative of His Holiness Dalai-Lama XIV in Russia, Mongolia and the CIS countries, Shadzhin-lama (Supreme Lama) of Kalmykia Telo Tulku Rinpoche.
During the meeting, Read the rest of this entry »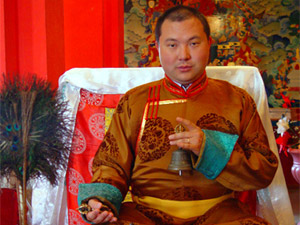 Telo Tulku Rinpoche (Dilowa Khutugtu)
Erdne Ombadykow (born October 27, 1972 in Philadelphia, Pennsylvania), also known as Telo Tulku Rinpoche, is the Tibetan Buddhist spiritual leader of the Kalmyk people. He received his formal training as a Buddhist monk in India and was recognized by the Dalai Lama as the current reincarnation of the Buddhist Mahasiddha Tilopa. Since 1992, he has served as the spiritual head of the Buddhists in Kalmykia. He divides his time between Kalmykia and his family in Erie, Colorado. Read the rest of this entry »
His Holiness the 14th Dalai Lama of Tibet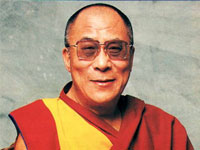 The Dalai Lama is a high lama in the Gelug or "Yellow Hat" branch of Tibetan Buddhism. The name is a combination of the Sino-Mongolian word далай (dalai) meaning "Ocean" and the Tibetan word བླ་མ་ bla-ma (with a silent "b") meaning "chief, high priest".
Read the rest of this entry »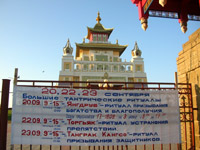 [ Ru | Es | It | Fr ] In Kalmykia will be held ritual of invocation of wealth and prosperity
Information for pilgrims: From 20 to 23 September, in Elista, in the famous Golden Temple of Buddha will be held tantric rituals Yangdrub, this kindly informed the chief of Department of information.
Tantric rituals will head a living embodiment of the deity Tilopa – Telo Tulku Rinpoche, a reincarnated from a past life. Read the rest of this entry »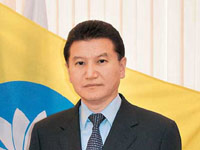 During that visit I finally found myself with an hour or two of free time. The meeting had been scheduled for the evening. Spring. I took a walk around the capital of France. Fine smells mingled with the thawing snow and the acrid car exhaust. I walked along a bridge, past two your people kissing, past a smiling street trader peddling badges, old coins and chains, and past British tourists. Suddenly I saw the world-famous Isle de la Cite and then the enormous grey wonder of the slowly approaching Notre Dame.
I bought a ticket, entered the building, sat down in the third row and felt my chest slowly fill with a sweet pain. How many times had I dreamed of coming here! I felt intimations of a miracle. Read the rest of this entry »