Archive for December, 2011
Contest 'Miss Student of Kalmykia' [ Ru ]
In the city of Elista has passed annual contest of the mind, talent and beauty 'Miss Student of Kalmykia 2011', in which girls from higher educational institutions of the Republic of Kalmykia competed for the title of best student.
The winning student Dayana Tamadaeva.
"Miss Virtual Award" – Maria Kekeeva;
"Miss Grace" – Olga Boychenko; Read the rest of this entry »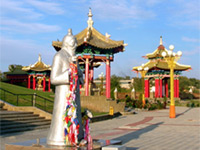 Kalmykian New Year – Zul. Celebration period: 1-15 of December.
Kalmykian New Year celebrates as one the most important events in the Buddhist history – achieving Parinirvana by the founder of the Gelug school Lama Zonkava. Kalmyks treat this person in a special way.
Supreme Lamas often say, that Kalmyks have a strong inseparable connection with Lama Zonkava, which lasts from the beginning of time. Lama Zonkava is Read the rest of this entry »